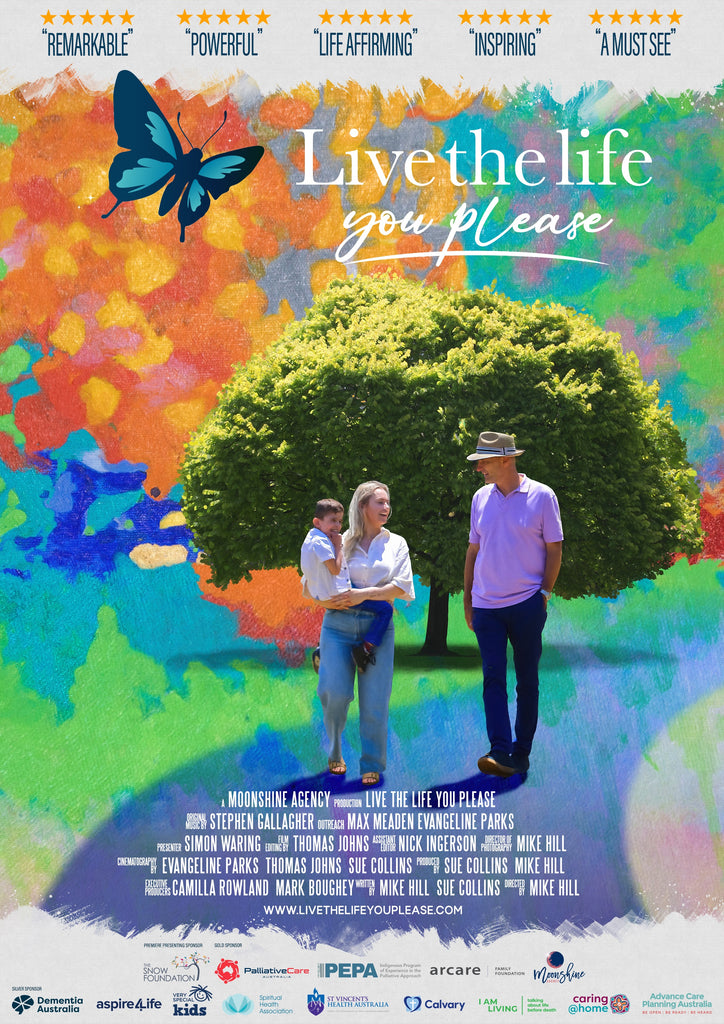 LIVE THE LIFE YOU PLEASE - SINGLE SCREENING LICENCE
Join the movement to drive a national conversation about making better end-of-life care available to all Australians.
Live the life you please is a definitive, new feature documentary film about living and dying in Australia.
Produced by multi-award winning filmmakers, Live the life you please boasts a treasure trove of incredible stories captured all around Australia, from cities and regional centres to remote communities.
It will make you smile, laugh, laugh harder and occasionally shed a tear as it shares the stories of a diverse range of Australians experiencing their last chapter.
Stories include Australians of all ages, different stages of disease and a variety of geographical locations, cultural, socio-economic and personal circumstances.
The film powerfully makes the case for the impact good services make as we approach the end-of-life.
It makes the social and economic case for increased support of essential services including palliative care, aged care, community care, allied health and the support of carers at home.
This remarkable film also supports the concepts of cultural safety, healthy conversations about death and dying amongst family members, and the importance of advance care planning.
You can use screening events to raise funds for your issue or organisation, engage your network, amplify the voices of the participants, and advocate for change.
The film provides a powerful centrepiece to National Palliative Care Week events, Grand Rounds at Hospital, Formal Education and more.
Other topical days also lend themselves to events given that participants in the film are living with a variety of conditions including Dementia, MND, Lung Disease, Cancer (specifically Breast Cancer, Bowel Cancer, Brain Cancer, Lung Cancer, Skin Cancer and Childhood Cancer), Parkinson's, Old Age and Rare Diseases.

The film makes the case for universal access to excellent end-of-life care for all Australians.

Be part of this remarkable story! Host a screening of Live the life you please. 
We humbly request a screening fee to support the sustainability of this unique campaign.  Your financial contribution enables us to supply access to the film mastered in a format best suited to your event and the human resources required to support you in making your event as successful as possible.
The screening fee (and any other event costs) can be recouped through the sale of affordable tickets (we can help you set this up on Eventbrite if needed) or donations at the door.
The single screening licence allows you to screen the film once. If you would like to run multiple screenings, please purchase the perpetual licence.  
Events can take place any time after May 22, 2023.