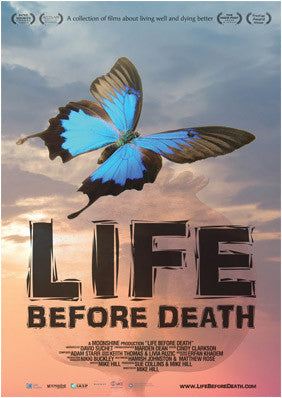 LIFE BEFORE DEATH - DVD BOX SET
LIFE Before Death is a multi-award winning social action documentary film series about the global crisis in untreated pain and the dramatic life-changing effects pain treatment and palliative care services can deliver to patients and their families.

The film asks the fundamental question underpinning our mortality: How will you die?

This beautifully filmed journey takes us to 11 countries as we follow the remarkable health professionals battling the sweeping epidemic of pain that threatens to condemn one in every ten of us to an agonizing and shameful death.  Through the eyes of patients and their families we discover the inherent humanity that empowers the best of us to care for those beyond cure.

This is an intimate, hopeful and life-affirming story of living well and dying better, advocating for making the most of every moment in our life before death.

Filmed in USA, Canada, Australia, South Africa, Ireland, Singapore, Georgia, Hong Kong, China, Uganda and India.
The project is multi-faceted and incorporates a feature film, 55 minute broadcast documentary, 50 short films and numerous social media platforms. The project is designed to generate concerned awareness and educate its audience.

SPECIAL EDITION TWO DISC BOX SET

The Feature Film, 55 Minute Documentary and 40 Short Films contained in this Special Edition Two-Disc DVD Box Set is essential viewing for health professionals, educators, patient advocates and documentary lovers everywhere.

Narrated by David Suchet.

Rating:    PG - Parental Guidance Recommended
Subtitles: English
                Spanish
                French
                Russian
                Arabic
                Chinese
                Romanian
                Vietnamese
                Hungarian
                Czech
                German
Duration:  332 minutes (total)
Sound:     5.1 Surround Sound & Stereo (English)