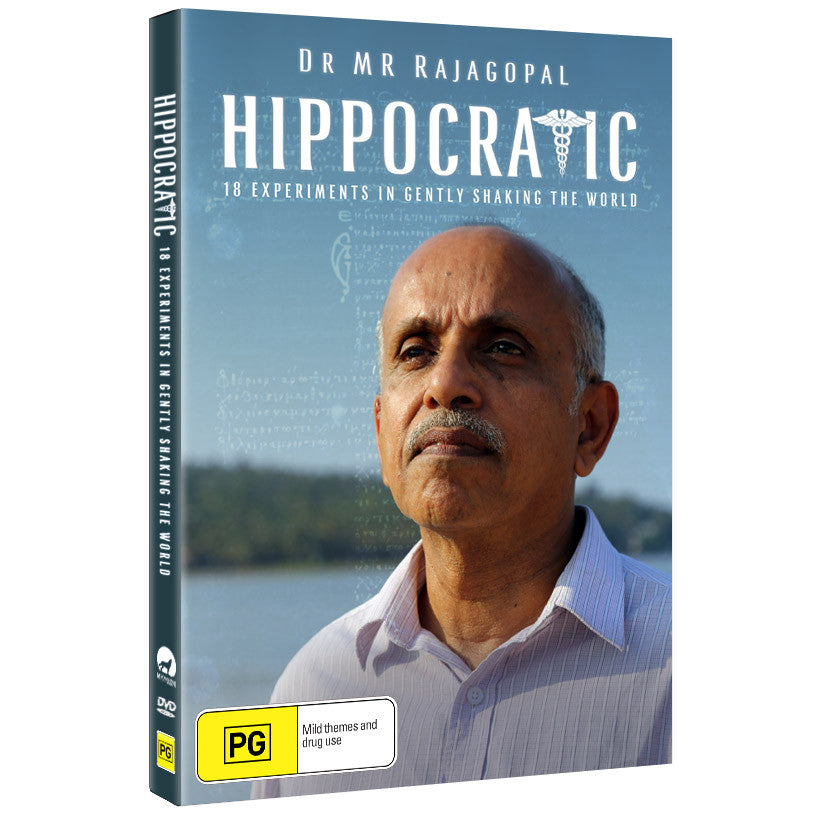 HIPPOCRATIC - BLU-RAY
HIPPOCRATIC BLU-RAY - SUMMARY 
Dr Raj is a small man with a big dream: a pain-free India.
His mission is to bring ethical practice to modern medicine through whole person care and universal access to essential, but heavily restricted, pain medicines.
Now, this spiritual leader of ethical medicine shares the story of his life's work, reflecting on effecting change and relieving unnecessary human suffering in a country of 1.25 billion people, or one sixth of the world's population.
Be inspired by the impact that can be made by a small body of determined spirits fired by an unquenchable faith in their mission and altering the course of history.
SYNOPSIS
Modern medicine has lost its way.  As the health care industry has boomed over the past 30 years, the goal of medical practice has become increasingly ambiguous.
In countries like India, the medical system is now fuelling poverty, where over one-third of all poverty is caused by disease and its treatment.  This is not a 'developing world' problem, in fact the lion's share of this suffering is caused by unregulated western medical industrialists seeking to expand their global footprint.
This exquisitely-crafted, first-person account tells the story of an extraordinary global health leader in Dr MR Rajagopal, who is described by the New York Times as 'the father of palliative care in India'.
'Hippocratic' is a feature-length film exploring the life story of this acclaimed Indian physician, from cowardly child to fearless visionary, in a compelling tale that brings its protagonist full-circle to rediscover the first principals of medicine.
Ancient physicians swore by their Gods to uphold specific ethical standards.  These words were written by Hippocrates - a Greek physician referred to as the father of modern medicine.  Almost two and a half thousand years later, modern physicians swear by a modernised version of these words - known as the 'Hippocratic Oath'.
Get ready to be transported through time and space on an unforgettable journey through India as 'Hippocratic' brings to light the realities of delivering on this promise and providing health care to the world's most populous democratic society. 
Ironically, Raj fell into medicine by accident and confesses that he was confused as a medical student to the role of a doctor, given the inhumane practice he witnessed around him.  But with time, amidst this sea of suffering, he discovered this calling.
'Hippocratic' reveals the challenges of delivering health care in low-resource settings, the tragedy of unnecessary suffering, but also the opportunity and empowerment of delivering ethical, whole-person care through a grassroots movement.
"Health care as a whole should be about building lives, not destroying lives."
Ultimately, Raj's story is deeply personal, inspirational and uplifting.  This powerful biographical film draws on the timeless wisdom of Mahatma Gandhi and the profound insights generated by Raj's own lived experiences.
Dr Raj's newfound appreciation of the Hippocratic Oath challenges us all to reframe our view of the modern 'medical industry'. 
"The Hippocratic Oath asks me to treat my patients with warmth, sympathy and understanding.  Once we are able to practice it, we are able to make the Hippocratic Oath come alive - it doesn't live until then."
Ultimately, Raj's story speaks to the need for a revolution in health care that will gently shake the world as we know it.
Featuring Dr MR Rajagopal
Narrated by David Suchet CBE
Year: 2017
Duration: 90 minutes
Rating:    PG - Parental Guidance Recommended (Mild Medical Themes)
Sound:     Stereo
Genre: Documentary/ Biography
Producers: Mike Hill, Sue Collins
Director: Mike Hill
This is a must-see documentary for all those interested in the power of the human spirit, human rights and social justice.  It is essential viewing for anyone working in health care, medicine, nursing and public health.