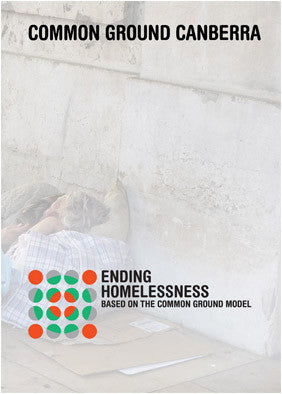 COMMON GROUND CANBERRA DVD
This special edition DVD about homelessness in Canberra, Australia contains a series of three short films.

The first short film, Common Wealth, explores the scale, scope and reality of homelessness in Canberra today:

In the capital city of our Commonwealth – our political community founded for the common good – homelessness is growing at an alarming rate. Between 2001 and 2006, homelessness in the ACT grew by eleven per cent. Canberra has been exposed as the worst housing market in Australia for low-income individuals and families. Why is our Commonwealth failing to protect its most vulnerable citizens?

The second short film, Common Sense, asks its viewers to imagine how they would deal with the realities of homelessness:

Australian politicians boast of our strong economic standing. The disposable household income of Canberrans is the highest of any capital city in the country. Yet in our national capital, homelessness is increasing at an alarming rate. Common sense tells us that the ACT should have the most resources at its disposal to help its most vulnerable. Sadly, this is not the case. Today, the CEO of Lifeline Canberra will see how it feels to make do with nothing but the clothes on his back.

The third short film, Common Ground, seeks to identify a potential solution to the problem of homelessness in Canberra:

Today, there is effectively no affordable housing available in Canberra. As a result, homelessness is growing rapidly. The ACT and Federal Governments urgently need to identify and support initiatives that will provide long-term solutions to the problem. One such initiative is Common Ground – an international leader in the development of solutions to homelessness.
This series of films was produced in partnership with Common Ground Canberra.  The mission of Common Ground is to end homelessness in Canberra by developing permanent, high quality, supportive, safe housing for the city's most vulnerable homeless people.